Preview of the Exhibition of a New Daguerreotype of Emily Dickinson
A cultural palimpsest of our emotions, desires, opinions, and literary histories, the image of a teenage 'Emily Dickinson' has presided over this international icon. But what if another image crept into our mind's eye, an image that is not solitary, staring out, and a bit fretful, but is that of a bold, assertive women in her late twenties with her arm around other woman. How might that change our literary history?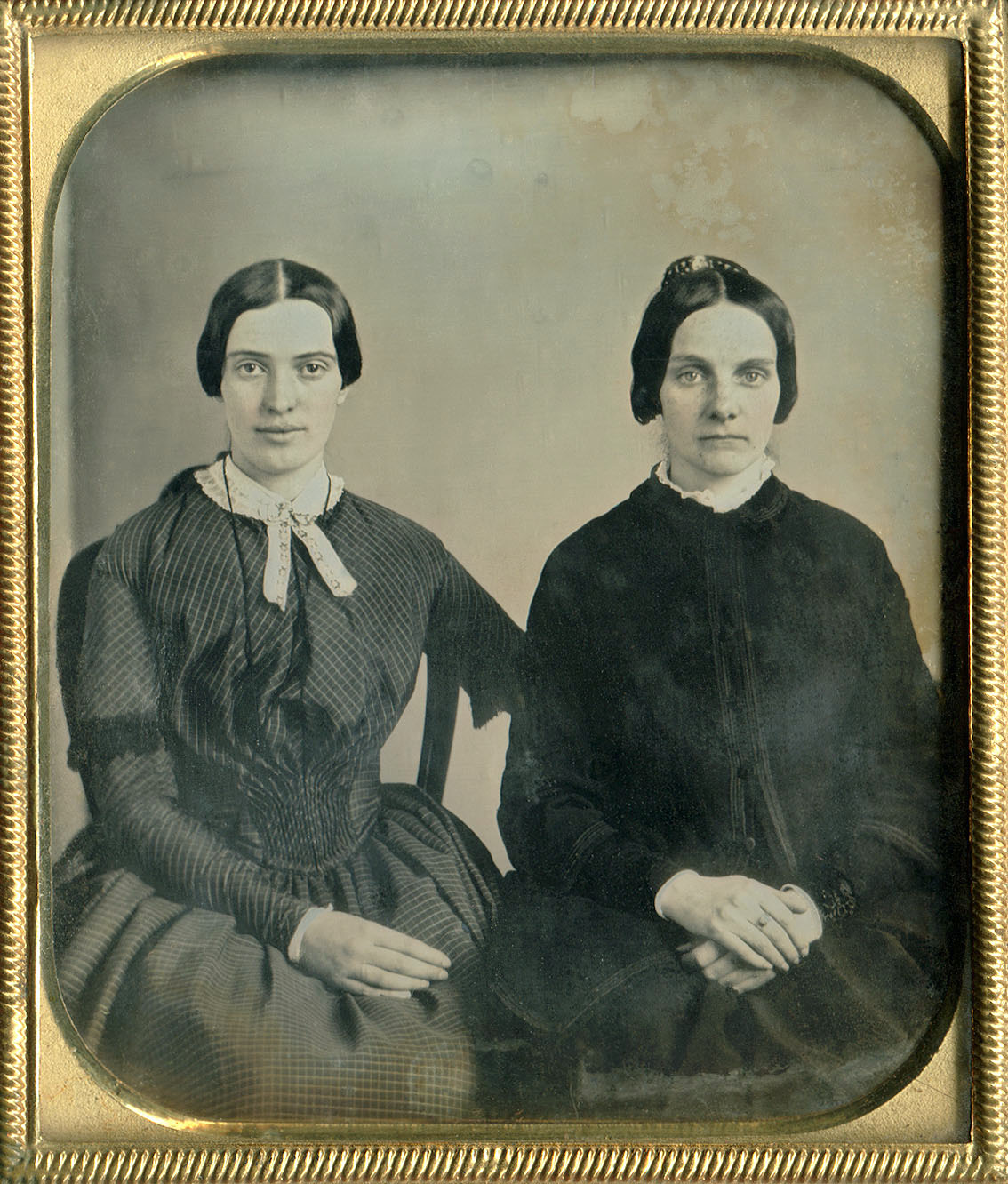 Poet Emily Dickinson is an American cultural icon whose star power extends well beyond the borders of her native town, state, and nation.  She is the subject (and curator) of our deep gossip, and of our archives.
The Dickinson Electronic Archives 2 will create a scholarly environment that showcases the possibility of interdisciplinary and collaborative research and explores the potential of the digital environment to reveal new interpretive material, cultural, historical, and theoretical contexts. In doing so, the DEA2 will open a space of knowledge exchange for a networked world of scholars, students, and readers. Dickinson's readers will find an exhibition on the new daguerreotype that will offer essays by and reports on the work of the early principal investigators, essays by scholars beyond the world of Dickinson, a discussion space for comments from all interested readers, and more.
In our Exhibition, readers can learn much more about Emily Dickinson's relationship with Catherine (Kate) Scott Turner Anthon, the woman pictured here on Emily's right. The details of dating this daguerreotype as one taken in or about 1859, when both women were in their late twenties, will be featured. The daguerreotype was discovered in western Massachusetts in 1995, and the dealer purchased it from a home in the Springfield area. Compelling evidence suggests that the picture was taken in Springfield, probably by J.C. Spooner, who purchased Otis Cooley's studio in 1855. Many who have studied the well known daguerreotype of Emily believe that Cooley was the photographer of that image. Verification of the daguerreotype includes analysis of the eyes and extended comparison to those of the teenaged Emily in the image we know so well (3-page PDF). Also, moles visible on Kate's face have been compared to her image in other photographs. As the Exhibition will show, the dresses both women are wearing provide suggestive clues that bolster the case for the two women being Emily Dickinson and Kate Scott Turner Anthon (Kate wore mourning black during this period, which she is wearing in this picture).  There are many more specifics that the Exhibition will provide, including advanced computer opaque facial overlays, as well as reflections from a number of scholars and a discussion space for interested readers. This is the first comparison of the known daguerreotype and this new one: http://youtu.be/vvDA3pNPfj0
Besides the comparison of the 16 year old Emily Dickinson to the Emily Dickinson in her late 20s, Tom Thamm has also produced three more compelling comparisons. The first daguerreotype is of Lavinia Dickinson, taken in 1852, five years after the 1847 daguerreotype of Emily that has been so widely distributed and seven years before the newly discovered daguerreotype was taken. This comparison shows family resemblance, but there is much more to say about the 1852 daguerreotype of Lavinia, which was taken in Otis H. Cooley's studio. Within a few years, J.C. Spooner, who produced the 1859 daguerreotype of Emily and Kate Scott, would be advertising that he was shooting daguerreotypes Cooley's studio, a studio with which the Dickinson family was very familiar and which Spooner purchased in 1855. Important too is that Spooner was still making daguerreotypes in 1859, though ambrotypes and tintypes were beginning to displace the more labor-intensive daguerreotype method.
Enjoy this comparison of sisters Lavinia and Emily Dickinson:
This compares the image of Kate Scott in the 1859 daguerreotype with that of one made in 1861-1863 (and likely earlier in that period rather than later):
This might be considered a creative reenactment of Dr. Pepin's scientific comparison of the eyes of Emily (1847) and Emily (1859):
Those who have never heard of Catherine (Kate) Scott Turner Anthon should know that Rebecca Patterson published The Riddle of Emily Dickinson (1951) to tell "the story of three women: Emily Dickinson, her sister-in-law Susan Gilbert [Huntington] Dickinson, and, most especially, Kate Scott, about whom least is known" (32).  During the height of a period that would become known as the "Lavender Scare," Patterson courageously reported her research findings and argued that Emily Dickinson and Kate Scott (as Kate preferred her Amherst friends call her) were deeply in love with one another. Working with Margaret Dakin of the Amherst Special Collections, and Margaret Freeman, who edited Patterson's posthumously published Emily Dickinson's Imagery (1979), as well as with others, the DEA2 will be releasing more detailed information about Kate Scott, who remained close to Susan Dickinson until the end of her life, as the bits of correspondence between them already published on the DEA make clear.  "Katie 'Jane'" looks forward to receiving one of Susan's articles for the Springfield Republican and "also Matty's poems."     
For two important articles on the new images, readers should consult the Amherst College Special Collections  and the Emily Dickinson Museum.  Check back soon for our Exhibition and to join the conversation about this exciting discovery by "Sam Carlo."
The DEA thanks the Collector Sam Carlo for permission to publish the image and, for his technical assistance, Aaron Beer-Rudy.