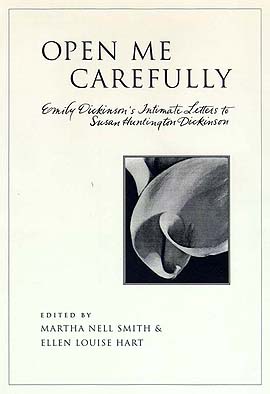 PARIS PRESS
Biography & Autobiography
October
6 x 9, 400 pp
24 facsimiles
PB $19.95 0-9638183-6-8 CUSA
HC $39.95 0-9638183-7-6 CUSA

For the first time, letters from Emily Dickinson's 36-year correspondence to her neighbor and sister-in-law, Susan Huntington Dickinson, are compiled in a single volume.

Open Me Carefully: Emily Dickinson's Intimate Letters to Susan Huntington Dickinson overcomes a century of censorship and misinterpretation, allowing readers to understand Dickinson's poems in the context of her daily life and bringing to light Susan Huntington Dickinson as the central source of the poet's passion and inspiration, and Emily's primary reader and poetic collaborator. The letters literally unfold Dickinson's life and art through expressions of longing and desire interspersed with discussions of literature, politics, and family concerns.

The introduction and section openers include biographical and historical information as well as engaging anecdotes. They also explain the misrepresentation of Dickinson by past editors, critics, and family members, such as Mabel Loomis Todd, who attempted to erase the presence of Susan from Emily's life.

Compiled by two renowned Dickinson experts, this book breaks away from the traditional understanding of Dickinson as childlike recluse, pining for the approval of male critics and suitors.

For the millions of readers who love Emily Dickinson's poetry, Open Me Carefully brings new light to the meaning of the poet's life and work. It is a feast for anyone interested in the art of letter writing and for readers interested in biography, autobiography, and the censorship that can create false but enduring legends. Gone is Emily as lonely spinster. Here is Dickinson in her own words, passionate and fully alive.

Martha Nell Smith is associate professor of English at the University of Maryland, College Park. She is the author of Rowing in Eden, Rereading Emily Dickinson and co-author of the Comic Power in Emily Dickinson. Ellen Louise Hart is instructor of writing at Cowell Colege, the University of California, Santa Cruz.