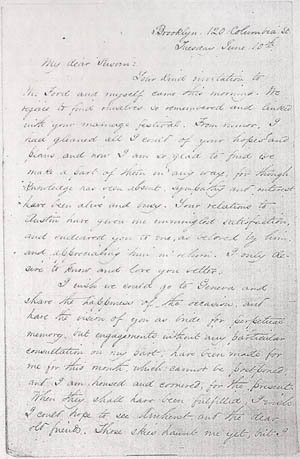 Brooklyn, 120 Columbia St.
Tuesday June 10th

My dear Susan:

Your kind invitation to
Mr. Ford and myself came this morning. We
rejoice to find ourselves so remembered and linked
with your marriage festival. From rumor, I
had gleaned all I could of your hopes and
plans, and now I am so glad to find we
make a part of them in any way, for though
knowledge has been absent, sympathy and interest
have been alive and busy. Your relations to
Austin have given me unmingled satisfaction,
and endeared you to me, as beloved by him,
and appreciating him in return. I only de-
sire to know and love you better.

I wish we could go to Geneva and
share the happiness of the occasion, and
have the vision of you as bride for perpetual
memory, but engagements without any particular
consultation on my part, have been made for
me for this month, which cannot be postponed,
and I am housed and cornered, for the present.
When they shall have been fulfilled, I wish
I could hope to see Amherst, and the dear
old friends. Those skies daunt me yet, but I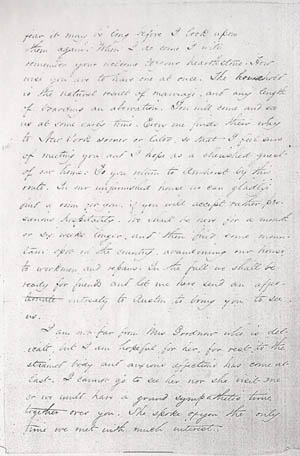 fear it may be long before I look upon
them again. When I do come I will
remember your welcome to your hearthstone. How
wise you are to have one at once. The household
is the natural result of marriage, and any length
of boarding an aberration. You will come and see
us at some early time. Every one finds their way
to New York sooner or later, so that I feel sure
of meeting you and I hope as a cherished guest
of our home. So you return to Amherst by this
[?]. In our unfurnished house we can gladly
find a room for you, if you will accept rather pre-
carious hospitality. We shall be here for a month
or six weeks longer, and then find some moun-
tain spot in the country, abandoning our house
to workmen and repairs. In the fall we shall be
ready for friends and let me here send an affec-
tionate entreaty to Austin to bring you to see
us.

I am not far from Mrs. G[oodman?] who is del-
icate, but I am hopeful for her, for rest to the
strained body and anxious affection has come at
last. I cannot go to see her nor she visit me
or we would have a grand sympathetic time
together over you. She spoke of you the only
time we met with much interest.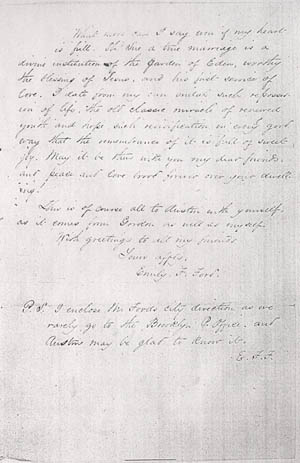 H bMS Am 1118.95, Box 9
What more can I say even if my heart
is full. Oh! Sue a true marriage is a
divine institution of the Garden of Eden, worthy
the blessing of Jesus, and his first service of
love. I date from my own bridal such reposses-
ion of life, the old classic miracle of recovered?
youth and hope such revivification in every good
way that the remembrance of it is full of sweet
joy. May it be thus with you my dear friends,
and peace and love breed[?] forever over your dwell-
ing!

This is of course all to Austin with yourself,
as it comes from Gordon as well as myself.

With greetings to all my friends
Yours affly,
Emily. F. Ford.

P.S. I enclose the Ford's city direction as we
rarely go to the Brooklyn P. Office. and
Austin may be glad to know it.
E. F. F.