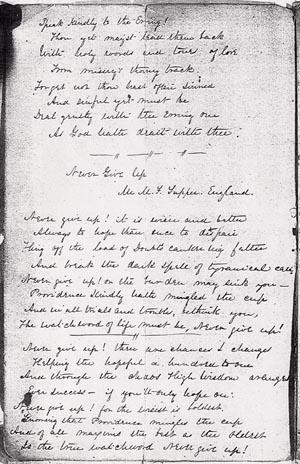 S.H.D. Commonplace Book (16:35:1),
Martha Dickinson Bianchi Collection,
John Hay Library, Brown University Libraries
Speak kindly to the Erring!
Thou yet may'st lead them back
With holy words and tones of love
From misery's thorny track.
Forget not thou hath often sinned
And sinful yet must be
Deal gently with the Erring one
As God hath dealt with thee.


--- --- ---


Never Give Up
Mr M. F. Tupper. England.

Never Give up! it is wiser and better
Always to hope than once to despair
Fling off the load of Doubt's cankering fetter
And break the dark spell of tyranical care.
Never give up! or the burden may sink you -
Providence kindly hath mingled the cup
And in all trials and troubles, bethink you,
The watchword of life must be, Never give up!

-----

Never give up! there are chances & changes
Helping the hopeful & hundred to one
And through the chaos High wisdom aranges [sic]
Ever success - if you'll only hope on:
Never give up! for the wisest is boldest.
Knowing that Providence mingles the cup
And of all maxims the best as the oldest
Is the true watchword Never give up!