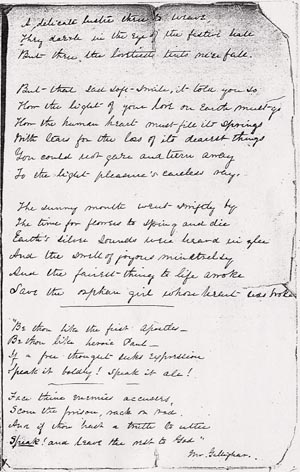 S.H.D. Commonplace Book (16:35:1),
Martha Dickinson Bianchi Collection,
John Hay Library, Brown University Libraries
A delicate lustre there to weave,
They dazzle in the eye of the festive hall
But there the loveliest tints ne'er fall.

But that sad soft smile, it told you so
How the light of your love on Earth must go
How the human heart must fill its springs
With tears for the loss of its dearest things
You could not gaze and turn away
To the light pleasure's careless ray.

The sunny month went swiftly by
The time for flowers to spring and die
Earth's silver sounds were heard in glee
And the swell of joyous minstrelry
And the fairest thing to life awoke
Save the orphan girl whose heart was broke


-----


"Be thou like the first Apostles -
Be thou like heroic Paul -
If a free thought seeks expression
Speak it boldly! Speak it all!

--- ---

Face thine enemies accusers,
Scorn the prison, rack or rod,
And if thou hast a truth to utter
Speak! and leave the rest to God"

Mr. Gallagher.