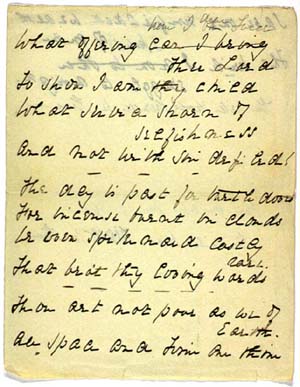 What Offering can I bring have I, dear oh Lord
Thee Lord
To show I am thy child
What service shorn of
selfishness
And not with sin defiled!

--- --- ---

The day is past for turtle doves
For incense burnt in clouds
Or even spikenard costly
rare.
That bro't thy loving words

--- --- --- --- ---

Thou art not poor as we of
Earth.
All space and time are thine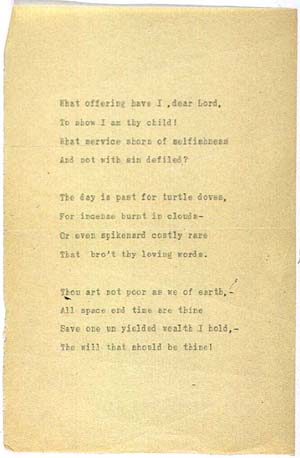 H bMS Am 1118.95, Box 9
What offering have I ,dear Lord,
To show I am thy child!
What service shorn of selfishness
And not with sin defiled?

The day is past for turtle doves,
For incense burnt in clouds--
Or even spikenard costly rare
That bro't thy loving words.

Thou art not poor as we of earth,--
All space and time are thine
Save one un yielded wealth I hold,--
The will that should be thine!