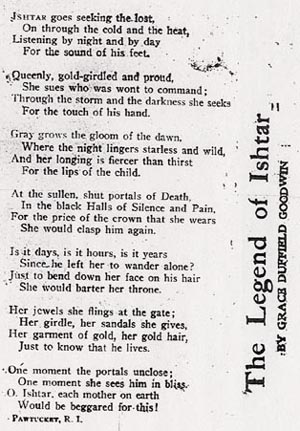 S.H.D. Commonplace Book (16:35:1),
Martha Dickinson Bianchi Collection,
John Hay Library, Brown University Libraries
The Legend of Ishtar
by Grace Duffield Goodwin

Ishtar goes seeking the Lost,
On through the cold and the heat,
Listening by night and by day
For the sound of his feet.

Queenly, gold-girdled and proud,
She sues who was wont to command;
Through the storm and the darkness she seeks
For the touch of his hand.

Gray grows the bloom of the dawn.
Where the night lingers starless and wild,
And her longing is fiercer than thirst
For the lips of the child.

At the sullen, shut portals of Death,
In the black Halls of Silence and Pain,
For the price of the crown that she wears
She would clasp him again.

Is it days, is it hours, is it years
Since he left her to wander alone?
Just to bend down her face on her hair
She would barter her throne.

Her jewels she flings at the gate;
Her girdle, her sandals she gives,
Her garment of gold, her gold hair,
Just to know that he lives.

One moment the portals unclose;
One moment she sees him in bliss.
O Ishtar, each mother on earth
Would be beggared for this!

PAWTUCKET, R. I.