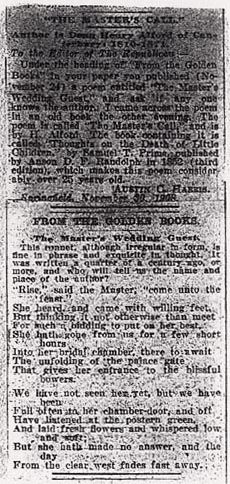 S.H.D. Commonplace Book (16:35:1),
Martha Dickinson Bianchi Collection,
John Hay Library, Brown University Libraries
"THE MASTER'S CALL."

Author is Dean Henry Alford of Canterbury 1610-1651[?].

To the Editor of The Republican-

Under the heading of "From the Golden Books" in your paper you published (November 24) a poem entitled "The Master's Wedding Guest," and ask if any one knows the author. I came across the poem in an old book the other evening. The poem is called "The Master's Call," and is by H. Alford. The book containing it is called "Thoughts on the Death of Little Children," by Samuel T. Prime, published by Anson D. F. Randolph in 1842 (third edition), which makes this poem considerably over 25 years old.

AUSTIN C. HARRIS.
Springfield, November 30, 1908.



FROM THE GOLDEN BOOKS.

The Master's Wedding Guest.

This sonnet, although irregular in form, is fine in phrase and exquisite in thought. It was written a quarter of a century ago, or more, and who will tell us the name and place of the author?

"Rise," said the Master, "come unto the feast."
She heard, and came with willing feet,
But thinking it not otherwise than meet
For such a bidding to put on her best,
She hath gone from us for a few short hours
Into her bridal chamber, there to await
The unfolding of the palace gate
That gives her entrance to the blissful bowers.

We have no seen her yet, but we have been
Full often to her chamber-door, and oft
Have listened at the postern green,
And laid fresh flowers and whispered low and soft;
But she hath made no answer, and the day
From the clear west fades fast away.