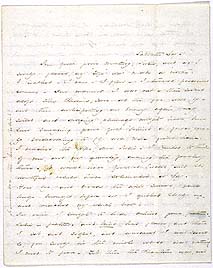 Sabbath Day -

I'm just from meeting, Susie, and as I sorely feared, my "life" was made a "victim." I walked - I ran - I flew - I turned precarious corners - One moment I was not - then soared aloft like Phoenix, soon as the foe was by - and then anticipating an enemy again, my soiled and drooping plumage might have been seen emerging from just behind a fence, vainly endeavoring to fly once more from hence. I reached the steps, dear Susie - I smiled to think of me, and my geometry, during the journey there - It would have puzzled Euclid, and it's doubtful result, have solemnized a Day.

How big and broad the aisle seemed, full huge enough before, as I quaked slowly up - and reached my usual seat!

In vain I sought to hide behind your feathers - Susie -feathers and Bird had flown, and there I sat, and sighed, and wondered I was scared so, for surely in the whole world was nothing I need to fear - Yet there the Phantom was, and

[Marginalia on first page:]
Remember the hint, Susie!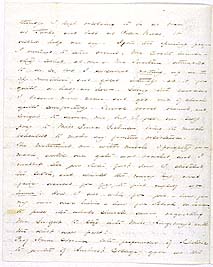 though I kept resolving to be as brave as Turks, and bold as Polar Bears, it did'nt help me any. After the opening prayer I ventured to turn around. Mr Carter immediately looked at me - Mr Sweetser attempted to do so, but I discovered nothing, up in the sky somewhere, and gazed intently at it, for quite a half an hour. During the exercises I became more calm, and got out of church quite comfortably. Several roared around, and, sought to devour me, but I fell an easy prey to Miss Lavina Dickinson, being too much exhausted to make any farther resistance.

She entertained me with much sprightly remark, until our gate was reached, and I need'nt tell you Susie, just how I clutched the latch, and whirled the merry key, and fairly danced for joy, to find myself at home! How I did wish for you - how - for my own dear Vinnie - how for Goliah, or Samson - to pull the whole church down, requesting Mr Dwight to step into Miss Kingsbury's, until the dust was past!

Prof Aaron Warner, late propounder of Rhetoric to youth of Amherst College, gave us the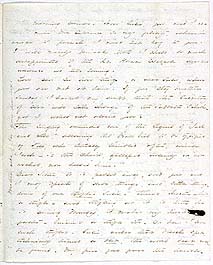 morning sermon. Now Susie, you and I, admire Mr Warner, so my felicity, when he arose to preach, I need not say to you. I will merely remark that I shall be much disappointed if the Rev Horace Walpole does'nt address us this evening.

You can see how things go, dear Susie, when you are not at home. If you stay another Sunday I hav'nt any doubt that the "Secretary of War" will take charge of the Sabbath School - yet I would not alarm you!

The singing reminded me of the Legend of "Jack and Gill," allowing the Bass Viol to be typified by Gill, who literally tumbled after, while Jack - i e the choir, galloped insanely on, "nor recked, nor heeded" him.

Dear Sister, it is passed away, and you and I may speak of dear things, and little things - some of our trifles Susie - There's Austin - he's a trifle - and trifling as it is that he is coming Monday, it makes my heart [beat; ink blot, word is indeciperhable] faster - Vinnie's a trifle too - Oh how I love such trifles. Susie, under that black spot, technically termed a blot, the word beat may be found - My pen fell from the handle -

[Marginalia on third page:]
Mother asks if I've given her love.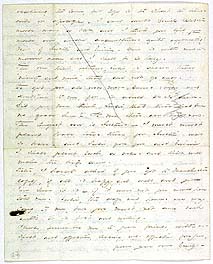 occasioning the same, but life is too short to transcribe or apologize - I dont doubt Daniel Webster made many a blot, and I think you said, you made one, under circumstances quite aggravating! But of Austin and Vinnie - One is with me tomorrow noon, and I shall be so happy -

The one that returns, Susie, is dearer than "ninety and nine" that did not go away.

To get you all once more, seems vague and doubtful to me, for it would be so dear. Did you ever think, Susie, that there had been no grave here? To me there are three, now. The longest one is Austin's - I must must plant brave trees there, for Austin was so brave - and Susie, for you and Vinnie I shall plant each a rose, and that will make the birds come.

Sister, I hav'nt asked if you got to Manchester safely, if all is happy, and well, and yet I'm sure it is - if it were not, you would have told me. Susie, the days and hours are very long to me, but you must not come back until it is best and willing.

Please remember me to your friends, with respect and affection, leaving only affection for you -

from your own Emily -